30 years of Complicite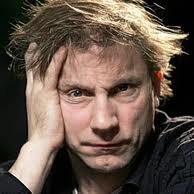 About halfway through an intense, two and a half hour talk with Simon McBurney, Complicite's artistic director tells a story for which he apologises. "You probably don't have time for this," he says, warning of a digression; and yet, when I leave the North London café where we met — feeling just a little battered by the waves of impassioned talk that have washed over me in the course of a morning — I find myself thinking that this so-called digression is a perfect expression of what Complicite is and what it means. He tells me of a time in 1986 — the company was only three years old and they'd been asked to a children's festival in Hong Kong. All very nice: but then, when they were there, they'd been taken to Lantau Island, to perform at the Chi Ma Wan internment camp for Vietnamese boat people. A grim setting; and not a natural audience for any kind of theatre.
Unsurprisingly, McBurney says, "when we started performing there was this enormous … resistance. We'd made this thing for children where we imagined a balloon, and it got bigger and bigger, this imaginary balloon: we had all these little children up on stage, but we weren't expecting all the adults and grandparents and all the other people who were there as refugees to be there. But they were, and all watching this in absolute silence. No laughter. And then, suddenly, a young man hurtled onto the stage with a massive knife, whipped it out, and I thought, he's going to kill us." McBurney is hunched over his coffee, and his blue eyes are wide, as if this is happening again, right in front of us. "And he started slashing at the imaginary balloon. As if to tell us that this was real for them; that our illusion was just that, an illusion. The illusion is not what's important; what's important is real."
The end of the story? No, not quite. "We were all very shaken, and just stood there, with the children; and then, because we were improvising, we started to play with the fact that the balloon was now in pieces. We got the children to collect all the pieces, and make it into something; and I picked it up and threw it into the audience. But there was no response — nothing. So one of us hurtled into the audience, ran through all the people, clambering over them, and picked it up, this imaginary object, and threw it back on stage. And one of us caught it and threw it back, and again there was no response. But then the third time we threw it, somebody caught it — and threw it to someone else in the audience, and then suddenly, the whole place was with us. It was a very humbling experience, but it was also an admission that if you make anything, any theatrical event, it's about the collective imagination. And it is about the audience, but it extends beyond the audience that is actually there — out, always, into a wider context."
Complicite is 30 years old. Founded by McBurney with Annabel Arden — who is currently creating the company's first official touring show for children, Lionboy — Marcello Magni and Fiona Gordon, this fluid company of performers, designers and technicians has always called upon the collective imagination, has always travelled the world, has always pushed the boundaries of what theatre can be. From a fringe collective of four eccentric performersto a company who has created 39 shows, won 52 major international awards, and whose 2012-13 production of Bulgakov's The Master and Margaritacould fill the Barbican theatre to capacity for two triumphant runs, you'd think it would be fair to say that Complicite was now the establishment. But McBurney doesn't see it that way. "I still feel very much on the outside of things," he says, of Complicite. "And I think we still are on the outside of things. But like limpets, we've managed to stick in there."
McBurney — who is in his mid-fifties and arrives at the café on an old bicycle, wearing a crumpled blue shirt, and with a cap jammed down hard over his wild hair — is agitated when we begin to speak; the subject of the company's anniversary, of going over the past, worries him. He doesn't like the thought of "summing up". A week or so earlier, I'd met with Arden and Young in the rehearsal rooms where Lionboy was being developed — Young, friends with Arden since their school days, is one half of "Zizou Corder"; the hugely successful children's novels were co-written with her daughter, Isabel Adomakoh Young, now in her first year at Cambridge.
Arden was equally uncomfortable with anniversary talk: "I can't think too much about Complicite as 'Complicite'," she says. "You know the joke about the company? That Simon and I and Marcello and Fiona got together in 1983 because Simon said to me, 'You know what, I've just got this summer project … It'll only take six weeks'! And every year after that, for at least ten years, we'd say, let's just finish now. So we never thought about it being in any sense dynastic; that just creeps up on you as you do what you do."
I confess that in the time I spent with Arden and Young, I didn't learn too much about what Lionboy will finally look like on stage: Complicite's method — whether the rehearsal period is six weeks (Lionboy) or 19 weeks (The Master and Margarita) — means that creating a piece is a constant process of discovery and change. It's a process that doesn't end when the show comes to the stage, so there's never really any such thing as a "finished" Complicite piece. TheLionboy novels (the first volume published a decade ago) tell the story of Charlie Ashanti, who discovers he can speak Cat — which comes in handy when he has to rescue his parents from the clutches of the evil Corporacy and return a pride of lions back to their home in Africa. Seen The Lion King? Seen War Horse? Well, put them out of your mind right now.
The production will be simple, with just seven performers, and there won't be any puppets or masks. "I just decided that everyone's had puppets and masks to do lions; and anyway, the lions are us," Arden says. "The lions are prisoners, and they have significance politically, as well as being gorgeous and huge and furry. You have to do a lot of imagining for the gorgeous huge furriness; though there's a wonderful sound of lions. Charlie is the only one who can speak to the lions, that gives you a bit of a clue." Does it give me a clue? I'm not sure it does. But that's the excitement of Complicite,you have to wait and see. The only thing guaranteed to be the same, from one show to another, is the audience's sense of wonder.
Is it strange to speak political significance when you're talking about a show for children? Again, not when you're talking about Complicite. McBurney, who founded his company at the time of the Falklands war and the miners' strike, has his real theatrical roots in Europe, and beyond; when he speaks of influences, he speaks of the dancer Pina Bausch or the experimental Japanese company Tenjo Sajiki, not of the Royal Court or the Royal Shakespeare Company, much as he clearly respects them. Complicite's programme in its 30th year is typically international: they are reviving their 2009 showShun-kin for a tour in the US and Japan, bringing McBurney's A Dog's Heart to Italy and collaborating with De Nederlandse Opera for The Magic Flute at the ENO.
Perhaps unsurprisingly, McBurney thinks the current political pull-back from Europe is "dangerous. It is really frightening." It seems to him that the politicians and press tell the public a single story about the world, and Britain's place in it; he begs to differ. "People talk about the responsibility of the artist, and that's to produce an alternative narrative. There is not only the narrative of the orthodoxy; there can be another narrative, and even if in our very small way in theatre a few people get to see that narrative and understand it, it's possible for them to carry that and disseminate it themselves, in a way that's mouth to ear, ear to mouth," he says. And then his voice trails off, because he's distracted by a pack of schoolboys walking by the café window. "Look at them, their hands in their pockets, their shoulders hunched over — as if ready for a blow," he says, his own body curled in echo. Young audiences, he says, have no problem with Complicite's unique, and often fractured, way of telling a story. "The demographic of the people who went to see The Master and Margarita was by no means white middle class. There were swaths of school children from inner-city London — and I would see them, because I was sitting at the back. They'd be texting at the beginning, and then the texts would gradually disappear. The fact that you were using a multilayered, fragmented language to tell a single story, they just got it, they understood."
But the economics of Complicite — arguably the country's best theatre company and an astonishing ambassador for "Brand Britain" — are difficult, especially in an age when the Culture Secretary Maria Miller speaks of the need for investment in the arts to pay a "healthy dividend". Complicite's annual grant from the Arts Council seems generous at £360,000, but as the producer Judith Diamant tells me, that only covers overheads and administration. The Master and Margarita, which was seen by more than 30,000 people in this country, cost £2,219,000 to develop; all that funding had to be raised by the company (in other words, by Diamant). Times are tough: the show took £2,087,000, so you do the maths. This is not a money-making operation.
McBurney makes clear to me that the film work he does as an actor (The Golden Compass, Robin Hood, Jane Eyre, Tinker Tailor Soldier Spy — he also plays Archdeacon Robert in the TV comedyRev) he does not only because he enjoys it but because "it's helpful to earn some money within a short period of time. I have a family and I have a mortgage, like a lot of people. You have to try to keep yourself going, in that respect." He and his wife, the concert pianist Cassie Yukawa, have two small children.
But money is not what motivates McBurney, or Complicite. It's worth remarking that throughout our discussion it's clear that another source of anxiety is that I am talking to him and to him alone — he is at pains to stress (periodically reeling off lists of names) the central importance, over 30 years of "all the people who have worked to make the work work". It's not false modesty; like his teacher, the French actor and mime Jaques Lecoq, one senses that McBurney sees himself almost as an instrument through which others may find the means to express themselves. Curiosity drives him: curiosity about his fellow human beings, about literature and art, about the world. He won't stay still. The success of The Master and Margarita meant that it could, surely, have gone in to the West End. "It was tempting," McBurney admits. "But it would have been difficult to find a theatre that was big enough for the epic scale that it was created for." What would make a difference to the company, he says, would be to have not a theatre to call their own, but a rehearsal space, a place for development. For it's in the process that his heart really lies. "With many of these pieces we could have gone on to make an enormous profit," he says of that West End dream, "but instead we've tended to ask: what are we going to attack next? What's the next subject?" His eyes bright as beacons, he grins.
Lionboy tours from May 29 to July 21, starting at Bristol Old Vic (0117 9877877) and ending at the Unicorn, London SE1 (020-7645 0560); complicite.org
Best of Complicite (click on titles to read full original review)
Put It On Your Head (1983)
Complicite's first production; a fantasia on the English seaside, which McBurney called "part idiocy, part pantomime, part commedia dell'arte". A bucket of water stood in for the sea; seagulls were indicated by yoghurt being thrown on the floor.
The Visit (1989) 
Kathryn Hunter won an Olivier Award for best actress for her role in this adaptation of Friedrich Dürrenmatt's 1956 play about a millionairess who returns to her native town to rescue its inhabitants from poverty — at a high price. They must murder the man who seduced her.
The Streets of Crocodiles (1992)
Based on the life and fictions of the Polish writer Bruno Schulz, and threaded around the story of Joseph, a Polish Jew growing up in the 1920s. The show evoked " a world where mere menace may at any moment escalate into madness: Schulz's disintegrating world, maybe our world, too," according to Benedict Nightingale in The Times
Mnemonic (1999) 
This multi-award winning production lifted off from the discovery, in the Alps, of the 5,000-year-old mummified body of Ötzi "the Iceman". The play wove together the ancient past and vibrant present in a compelling mix.
The Elephant Vanishes (2003) 
An adaptation of Haruki Murakami's 1993 story collection, The Elephant Vanishes featured actors from Japan's Setagaya Public Theatre on a stage awash with light and video projections, brilliantly enhancing the eerie, sleepless, urban atmosphere of Murakami's prose.
A Disappearing Number (2007) 
More projections here – this time of algebra, in the story of two maths geniuses: Srinivasa Ramanujan, a poor Brahmin from South India, and the Cambridge University don G.H. Hardy. Only Complicite could turn pure maths into pure theatre.
Endgame (2009)
For Complicite, this is an unusually "straight" adaptation. McBurney directs himself and Mark Rylance in a pitch-perfect rendition of Samuel Beckett's dark double-act.
The Master and Margarita (2011) 
Complicite's blockbusting adaptation of Mikhail Bulgakov's novel in which the Devil pays a visit to (a fervently atheistic) Soviet Moscow. Gorgeous movement, stunning projection and the compelling parallel story of Pontius Pilate's encounters with a very human Jesus made for an unforgettable night.