A little something to warm you up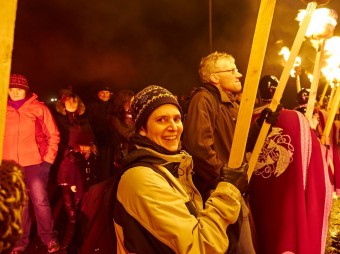 I don't know about you, but if you've just processed down to the harbour on one of Britain's most northerly isles carrying a 6-foot flaming torch and proceeded to set a Viking longship alight, you might fancy a bowl of soup, mightn't you? Yeah, yeah, the soup's just an excuse to crow about following the Jarl squad in the Scalloway Fire Festival the other week. All I can say is: I urge you to go next year, and not just because the oatcakes up there are to die for. (If I were a real Viking I guess I'd say: to pillage and slaughter for, but I'm not, not really, so I won't.)
But the bowl of soup still holds. We had a gorgeous roast beef from The Ginger Pig at Christmas; I couldn't bear to throw away the bones, so hid them in the freezer and planned a soup. Got home from Shetland: made soup. Here it is. Very soothing, with or without flaming torches. (And thanks to Chris Brown for the photo!)
Beef bone and barley soup, serves 4-6
Two picked-clean ribs of beef which I happened to have on hand (but I bet it would still be pretty nice without them; it could even be vegetarian! Just substitute veggie broth for beef…)
1 cup dried beans — haricot best, I'd say, soaked overnight/for sixish hours in lightly salted water; drain them, and then cook over a gentle simmer/in a 180C oven for about an hour in fresh very lightly salted water. Drain and set aside. If you can't be bothered with dried beans, go on, use a can)
1 cup of barley
3 brown onions
2 generous carrots
2 big ribs of celery
half a bulb of fennel (you could use a whole; this is what I found in the fridge)
1 tablespoon of fennel seed
1/2 tablespoon dried oregano
2 tablespoons of olive oil
1 litre and a half (roughly…) of beef stock. You don't have any? I confess I quite like these, even if I don't like the way Marco Pierre White stares at me
Generous handful of parsley, finely chopped
Heat oven to 180C.
Chop onions, celery, carrots and fennel very finely — you can throw it all in the food processor and whiz, if you have one; I like to do the carrots separately as their a little tougher than the rest.
Pour oil in a big ovenproof saucepan and heat to a shimmer. Add fennel seed and stir for 30 seconds; then add onion/celery/carrot/fennel, plus some salt and pepper, and cook down until well softened, about 10-15 minutes. In go the beef bones, the stock, and the barley; give it a stir so it's all simmering and then put in the oven for about 40 minutes until the barley is cooked. Take it out, add the cooked beans and oregano; give it another 10-15 minutes in the oven.
Allow it to cool so the bones are cool enough to handle; pick off any meat you can and discard the bones. Add chopped parsley, stir through, serve with crusty bread. Balm for the Viking soul.