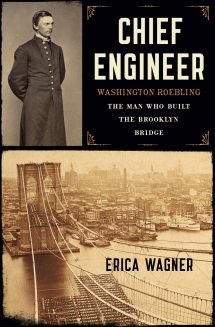 Chief Engineer: Washington Roebling, The Man Who Built the Brooklyn Bridge (Bloomsbury USA / June 27, 2017 / $28, hardcover)
Chief Engineer: The Man Who Built the Brooklyn Bridge (Bloomsbury UK / June 1, 2017 / Hardback, £20.00/eBook, £17.99)
Chief Engineer
Read an extract here — published in The Daily Beast.
"Captivating" — The New York Post
"Ms. Wagner's writing is graceful, even evocative, conveying a mellow admiration of Washington Roebling that suits the man… A welcome tribute to the persistence, precision and humanity of Washington Roebling and a love-song for the mighty New York bridge he built with the help of his pioneering, if irascible, father." — Allen C. Guelzo, The Wall Street Journal
His father conceived of the Brooklyn Bridge, but after John Roebling's sudden death, Washington Roebling built what has become one of American's most iconic structures—as much a part of New York as the Statue of Liberty or the Empire State Building. Yet, as recognizable as the bridge is, its builder is too often forgotten—and his life is of interest far beyond his chosen field. It is the story of immigrants, of the frontier, of the greatest crisis in American history, and of the making of the modern world.
Forty years after the publication of The Great Bridge, David McCullough's classic chronicle of how the East River was spanned, Erica Wagner has written a fascinating biography of one of America's most distinguished engineers and celebrates his greatest achievement: Chief Engineer: Washington Roebling, The Man Who Built the Brooklyn Bridge is enriched by Roebling's own eloquent voice, unveiled in his recently-discovered memoir that was previously thought lost to history.
The memoir reveals that his father, John—a renowned engineer who made his life in America after humble beginnings in Germany—was a tyrannical presence in Washington's life, so his own adoption of that career was hard won. A young man when the Civil War broke out, Washington joined the Union Army, building bridges that carried soldiers across rivers and seeing action in many pivotal battles, from Antietam to Gettysburg—aspects of his life never before fully brought to light. Safely returned, he married the remarkable Emily Warren Roebling, who would play a crucial role in the construction of the Brooklyn Bridge. Roebling's work on the bridge pioneered new building methods and materials but broke his health; he got the bends from high air pressure in the underwater caissons where workers excavated the foundations. When he became incapacitated, Emily acted as his amanuensis, relaying his detailed instructions to workers on the site.
Nearly a century and a half after it was begun, the Brooklyn Bridge remains a wonder, its image displayed on tourist brochures, film posters, and even Italian chewing gum. The story of its construction, one of the greatest emblems of progress in the nineteenth century, is celebrated in CHIEF ENGINEER, a dramatic tale of vision, innovation, and endurance in the face of extraordinary odds.
Reviews
"Celebrates the stunning achievement of Washington Roebling, an unlikely giant of the industrial revolution, in this engrossing biography…Wagner writes detailed, lucid descriptions of the technological advances that made the bridge possible…Roebling had a conflicted relationship with his father, John, a brilliant engineer and inventor of the wire rope that made large suspension bridges possible; John initiated the bridge project but died before construction began. The two could be Eugene O'Neill characters: the father a tyrant who built a business empire but tormented his family with violence, quack medical regimens, and bizarre diets; the son a low-key ironist always in his father's shadow but possessed of a meticulous intellect and dogged tenacity. Wagner grounds her fine study of the human side of industrial progress in patient devotion to science and craft." – Publishers Weekly
"As technical achievement, the Brooklyn Bridge reveals London's Garden Bridge as an infantile frivolity. Quite correctly, Wagner bigs up Roebling's heroism, commitment and physical bravery. She beautifully evokes how the bridge looks inevitable and permanent, but, is in fact, a nervous, living thing 'instinct with motion'." — Stephen Bayley, The Spectator
"With contemporary notes, clippings, and letters, too, [Chief Engineer] makes a fascinating tale…A sturdy, illuminating biography." – Kirkus Reviews
"A well-judged and well-written portrait." – Booklist
"In this keenly observed and deeply felt biography, Erica Wagner brings Washington Roebling to life, examining both the rigorous mathematics and the complex psychology involved in envisioning one of mankind's greatest built monuments.  The narrative is intensely absorbing, the prose tremendously clear, and the characters genuinely unforgettable.  This is history of the first order."
—Andrew Solomon, author of The Noonday Demon and Far From the Tree
"Erica Wagner has given us a captivating and highly readable portrait of Washington Roebling, chief engineer of the Brooklyn Bridge. Her book should put to rest once and for all in the general reader's mind any confusion between the relative contributions of Washington and those of his father, John, to that monumental engineering project."
–Henry Petroski, Aleksandar S. Vesic Professor of Civil Engineering and Professor of History, Duke University; author of Engineers of Dreams
"The Brooklyn Bridge is one of the greatest engineering marvels of all time, as well as a great work of public art.  Its chief engineer is equally compelling and Erica Wagner brings him and his complicated world to life."
–Ken Burns, Filmmaker, "Brooklyn Bridge" and "The Civil War"
"Erica Wagner's account of Washington Roebling, the man who built America's most famous bridge, is a classic, as lovingly and meticulously constructed as the bridge itself. It is a triumph of a book."
—Simon Winchester , author of Pacific and The Professor and the Madman