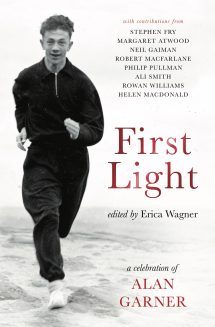 "Now comes FIRST LIGHT, a celebration of the work of Alan Garner, whose books explore the mysterious subterranean links between the present and the past, between psychology and landscape, between the real and the dream. If the rocks, caves, lakes, fens, bogs and dens of the land of Britain had a voice, it would sound like Alan Garner telling a story." – Philip Pullman
First Light
Described by Philip Pullman as 'the most important British writer of fantasy since Tolkien', Alan Garner has enraptured generations of readers with novels like The Weirdstone of Brisingamen, The Moon of Gomrath, Elidor, The Owl Service, Red Shift, and The Stone Book Quartet. His huge knowledge and love of folklore have been shared in his collections of fairytales, Alan Garner's Book of British Fairytales, A Bag of Moonshine andFairytales of Gold. His later novels, Strandloper, Thursbitch and Boneland continue and deepen his exploration of the language, folklore and history of the particular patch of Cheshire that is his own 'boneland'. This extraordinary body of work has fascinated and inspired readers and writers alike for more than fifty years.
Now many of the writers, artists, archaeologists and historians he has inspired have joined together to celebrate his life and work in First Light. Whether a literary essay or a personal response to Alan's work, a memory of the time they first read his work, or a story about the man himself, each piece is be a tribute to his far-reaching influence. The result is a beautiful and important book for anyone who cares about the power of story to enrich and transform.
For more information and to order books: find First Light on Unbound's website.
Contributors include:  Margaret Atwood, David Almond,  Frank Cottrell Boyce, Susan Cooper, Helen Dunmore, Stephen Fry, Cornelia Funke, Neil Gaiman, Robert Macfarlane, Helen Macdonald, Gregory Maguire, Bel Mooney, Neel Mukherjee, Philip Pullman, Ali Smith, Salley Vickers, Rowan Williams, Michael Wood and many more…
The purpose of the storyteller is to relate the truth in a manner that is simple: to integrate without reduction; for it is rarely possible to declare the truth as it is, because the Universe presents itself as a Mystery. We have to find parables; we have to tell stories to unriddle the world.
ALAN GARNER, The Voice that Thunders (1997)
Reviews
"Writer and editor Erica Wagner has done an excellent job in drawing together the many tangents of thought that spring from Garner's work. Other contributing writers include Helen Macdonald, John Burnside, Rowan Williams, Frank Cottrell Boyce and Olivia Laing, each clearly indebted to the influence of Garner for a plethora of varying reasons, chief among them the importance of story-telling in our culture. In all cultures." — Ben Myers in Caught by the River
"First Light is an exceedingly handsome book… It's a deeply absorbing collection of 43 essays and poems, a Robert Macfarlane word-map and Cornelia Funke's unexpected illustration of Garner as the Horned One. It creates a fractured kaleidoscopic picture of Garner, packed with surprises… Despite all the necessary publicity and puffery needed to get this book off the ground, it's a great addition to biography. I'm glad I subscribed." — Kate Macdonald