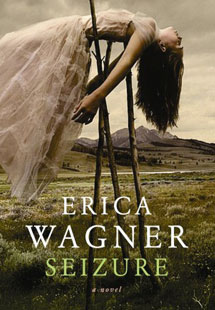 "It was cold inside, so she had walked to the fireplace. Blurred blue and white tiles, ships, Dutchmen, waves drawn as if with a child's crayon. She had reached out her hand. She had bent close to where the flames had been, and found that the ash – grey as the stone, grey as the sea, grey as the sky – was still warm."
Seizure
Janet grew up with her father; her mother, she was always told, died when she was three. But now she discovers she has inherited a house from her mother—who, she learns, died only recently. In a state of shock she travels north with the key: and finds an old stone cottage at the sea's edge.
Tom was raised by his mother, traveling from one place to another, his only stability the stories she told him—stories of shape-shifters, danger, impossible love. Now he hides away in an old stone cottage at the sea's edge, waiting for the woman he knows will come. When Janet arrives she is surprised to find Tom and to find herself mysteriously drawn to him.
In Erica Wagner's world of truth and terror, lives and stories become so interwoven that in the end, all distinctions are lost. Her hypnotic prose is charged with an intensity that will leave the reader breathless.
Reviews
"A unique voice"
Susan Reynolds, The Los Angeles Times
"A haunting debut novel"
Summer reading choice in The San Diego Tribune
"Wagner has created something genuinely visceral"
Lucy Atkins, The Sunday Times, May 5, 2007 read the rest…
Madison Smartt Bell in The New York Times, Sunday April 8, 2007"Wagner drives her scalpel through the outer layers of desire and attraction and into the deepest dark current of erotic need."read the rest…
"Truly marvellous and haunting, and, in the most rewarding way, deeply unsettling. It's quite simply a brilliant, beautiful novel." John Burnside
"A bold and ambitious attempt to write the lyric borderline between reality and fantasy"
Victoria Best, Tales from the Reading Room
Tom Adair in The Scotsman, March 31, 2007
"It is a story that flies in the face of literal meaning. It is what Angela Carter called "mannerist-expressionist". The language is brazen and burnished, hard, precise, poetic and mutable, incubating contradictions, giving off heat and chill and simultaneous passion, giving off dazzle, a cry from the heart that is ruled by intelligence and shaped from first to last by a need to be spoken, a need to be heard – like the stories it hoards. "
read the rest…
Mary Flanagan in The Independent, April 20, 2007"What persuades and grips is the writing, which is dense and poetic. Yet its lyricism feels wholly natural, and passages like the ride of the fairy army and a midnight gambol with seals are thrilling. Wagner consistently skirts the purple through an innate toughness and precision."
read the rest…
"Seizure vaults the barriers between myth and the everyday world as it explores loss and healing, destruction and grace. A chilling read, and an exhilarating one." Helen Dunmore
Hephzibah Anderson in The Observer, April 1, 2007
"It is almost a decade since literary editor Erica Wagner published a volume of short, intensely felt stories. Solitude, abandonment and bereavement were among their themes, and they are echoed and enlarged on in her charged first novel, Seizure."
read the rest…
'Lyrical, compelling, profoundly unsettling, Seizure is a novel like no other. Through her extraordinary weaving of fable, fantasy and the familiar, Erica Wagner has created an unforgettable world.' Claire Messud
"Mysterious and lyrical, it's a must read." Viv Groskop, Eve
'A strange and extraordinary book – a true original.' Rose Tremain
'The language is, as ever with Erica Wagner, perfectly poised, reminiscent of that of Virginia Woolf. Beneath its delicate filigree however lies a disturbing tale of overwhelming loss and passion. Haunting. Unforgettable.' Josephine Hart
'Erica Wagner writes with unapologetic lyricism and great nerve.Seizure is impressive for the way it effortlessly mixes elements of the high Gothic with something lower-slung and casual. The result is a beautiful, exciting novel.' Meg Wolitzer