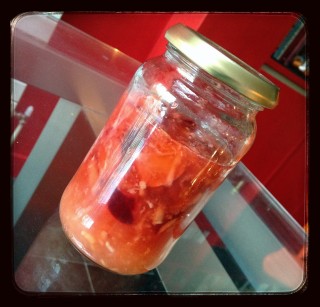 Catherine's cordial
So, Catherine and I had planned to meet in town for a ginger beer, but in the end she came round to my gaff. It seemed only fair to offer her something to rival a Fentimans, but what might that be? Lemonade? Simple, but maybe a bit obvious. In the end, I came up with this, and I bet you'll like it. It is aptly named, since Catherine is certainly cordial.
juice and zest of two lemons
4 tablespoons sugar
4 cm ginger root, peeled and coarsely grated
A few summer fruits — a couple of strawberries, a couple of cherries… take out any stones, and chop the fruit up a bit

Put the lemon juice, zest, sugar, and ginger in a little pan on the hob; bring to a boil and just let the sugar dissolve. Have ready a clean glass jar into which you've put the cut up fruit; pour over the ginger-lemon-sugar mix. Stick in the fridge and allow to cool. 

Thin to taste with water or soda water in a tall iced glass; you can strain it if you want, but we loved the gingery fruity bits at the bottoms of our cups.

Makes enough for about six glasses. Will it keep? It didn't last long enough for us to find out!