NOT Kraft macaroni and cheese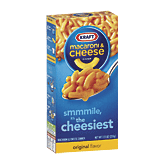 No, no, no! Ignore that little box on the left! Do you know what's in that? I'll tell you: ENRICHED MACARONI PRODUCT (WHEAT FLOUR, NIACIN, FERROUS SULFATE [IRON], THIAMIN MONONITRATE [VITAMIN B1], RIBOFLAVIN [VITAMIN B2], FOLIC ACID); CHEESE SAUCE MIX (WHEY, MILKFAT, MILK PROTEIN CONCENTRATE, SALT, SODIUM TRIPOLYPHOSPHATE, CONTAINS LESS THAN 2% OF CITRIC ACID, LACTIC ACID, SODIUM PHOSPHATE, CALCIUM PHOSPHATE, YELLOW 5, YELLOW 6, ENZYMES, CHEESE CULTURE). CONTAINS: WHEAT, MILK. Can't get enough of that Yellow 5, I betcha, never mind Yellow 6. Right then. No more mac 'n' cheese from a box; time to make your own. The argument in our house concerns not whether to eat the stuff from the box, but the application of ketchup to the sacred dish. What do you think? My son thinks the whole notion is disgusting — how could one bear to sully the perfection of mac 'n' cheese with ketchup? — while for my husband and I it's a serious guilty pleasure (yes, married life is a blast, thanks). Nevermind. Ketchup'd or not, there are some days when  a serious mac 'n' cheese is all you really need. Jamie Oliver puts tomatoes in his, which I think is weirder than ketchup; I am a purist. Any tomato-based products are to be added after cooking, thanks very much. Don't use a cheese that will turn stringy, like Swiss cheese; please, please don't use boring or rubbish cheese. A nice sharp cheddar is what you want; Cornish quartz is nice; if you were feeling adventurous you could crumble in a little blue. Ooooh, matron. As the days get colder, a bowl of this will — at least temporarily — soothe your every woe. Trust me.
Serves 4, or 3 really greedy people
500g macaroni
60g unsalted butter
25 g flour
1 tsp mustard powder
1/2 tsp paprika
1/2 tsp chili flakes
1 tsp salt
pepper
350 ml semi-skimmed milk
115-125 grated sharp Cheddar cheese — plus more for grating on top, another 40-50g
1/2 cup panko breadcrumbs
1 tbsp olive oil
You'll need a glass or metal baking dish, about 23cm by 34 cm, buttered.
First make your cheese sauce. Melt butter in small saucepan, whisk in flour and paprika, mustard, chili flakes, salt and pepper until smooth. Pour in milk and keep whisking until it starts to thicken nicely; this may take about 5 or 7 minutes. When it's bubbly and thick, turn off the heat and stir in the first lot of cheese and allow to melt in.
Preheat your oven to 180c.
Put a big pot of boiling water on the stove and salt it; cook the macaroni until it's done. Drain and just let it sit there in the colander. While it's cooking, heat the olive oil in a small frying pan and, when it's hot, pour in the panko; toast until nicely browned, about 4-5 minutes.
Yes, I know this uses a whole bunch of pans for a supposedly simple dish. Your grateful diners will be happy to wash up, I assure you.
Right! Assemblage time. Pour the drained macaroni into your prepared baking dish; tip in the cheese sauce and stir well to combine. Sprinkle over the toasted panko, carefully and evenly; now scatter across the rest of the cheese. Give another good grind of pepper over the whole thing. Into the oven it goes for about 25-30 minutes, until it's nicely browned on top. Dig in. And don't forget: they're doing the washing up….