Road to Rouen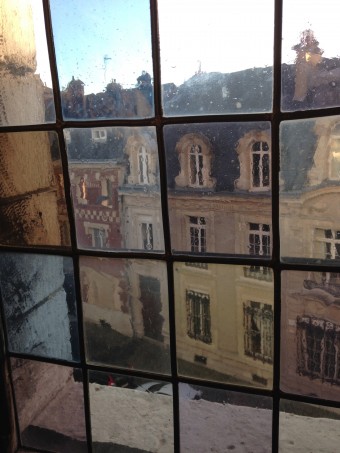 I am given to understand that some folks, when they take a holiday, go to places where waiters in white jackets bring them cocktails on silver trays, and where breakfast, lunch and dinner emerge from kitchens which remain unseen to the relaxed vacationer — who has only to lounge in the bar, martini in hand, awaiting the call to table.
That's not me.
So here we are in Normandy, in a cozy flat just by the station in Rouen, the Seine running a broad grey-green at the foot of rue Jeanne d'Arc (there's no escaping Joan here — but then, why would you want to?). Around the corner is a delightful butcher; just next to him is Le Potager de Sophie, a perfect little shop selling the most beautiful fruit and vegetables, as well as cheese, sweets, wine and other delights. With a pile of books to read while I'm not actually stirring, I don't think I could be happier.
Happiness, of course, breeds courage — and so I thought I'd venture to cook some magrets de canard, not something I'd ever tried before. These rich, dark duck breasts with their thick layer of fat are more like beef than poultry; after a little bit of Googling to see what the general method might be, I gave it a whirl — and am delighted to report a really, really big hit. Perfect cold weather food; a treat in the dark days of winter. I served these with magic beans (see below) which I bought at Le Potager — they were especially skinny beans, which makes them even better, I find — and a baguette to mop up the sauce. Delicieux!
Magrets de canard
Serves 4
2 magrets de canard
2 tbsp grainy mustard
2 tbsp apricot jam
2 tsp balsamic vinegar
sel de Guerande, black pepper
1/2 cup or thereabouts of white wine
1/2 tsp instant tapioca powder, if you want
Heat oven to 180c
Take your magrets de canard out of the fridge a half hour or so before you are going to use so they're not cold. Dry them well with a paper towel; then score the fat in a diamond pattern. Sprinkle the fat with salt and pepper.
Mix together the mustard, the apricot jam and the vinegar in a little bowl.
Heat a heavy, ovenproof frying pan on the stove until it's really nice and hot. Put in the magrets, skin side down, and salt and pepper the other side. Turn down the heat and cook for about 4-5 minutes, until the skin is nice and crispy — once or twice you will have to pour off the delicious, delicious fat which will be released from the skin into a bowl. Save this amazing elixir for making roast potatoes later!
Turn the breasts and cook for another 3-ish minutes on the other side. Move to a plate and deglaze the pan with a splash of wine. Now put the duck breasts back into the pan, skin side up, and spread half of the mustard/jam/vinegar mixture over the skin — and bung the whole thing into the oven. They should only need about 7 minutes in there, perhaps a little more — an instant-read thermometer should read 65C for rosy meat. You don't want this duck well-done!
Remove from the oven, and while the duck is resting, put the pan back on a lowish heat, and add the remaining mustard/jam/vinegar mix, the half cup of white wine, and stir until it bubbles. If you want it a little thicker, you can add the instant tapioca powder — but if you don't have it, don't worry.
When the duck has rested for at least 10 minutes, slice diagonally to serve, and pour the sauce over the slices.