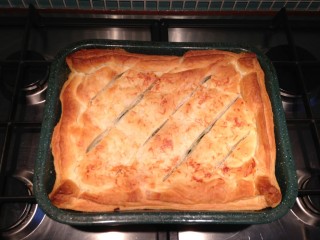 Theo wants chicken pie
When are you going to make chicken pie again? asks my son. No time like the present, I say. Chicken pie in our house is a scratch affair: we are not afraid of ready made pastry or, indeed, a bit of stock from a bottle. 

Oil and butter, a tbsp each, approx
4 chicken thighs, cut up into 2 cm cubes (look at me! centimetres! I am so European!)
3 leeks, cleaned and chopped
4 medium carrots, peeled, cut into 2 cm segments, steamed until tender
Two good handfuls frozen peas
chopped fresh herbs
One tbsp plain flour
half a mug of stock, or thereabouts
Bit of cream, if you like
A good spoonful of Boursin (I'm in Boursin moment…)
Ready made puff pastry

Preheat oven to 200C
Saute the leeks in the oil and butter in a deep, wide pan; when they are tender, add the chicken and cook until done, about 7 minutes. Throw in the carrots, the salt and pepper, the chopped fresh herbs and the peas — no need to thaw in advance. 
Scatter over the flour and stir through; now add the stock, the cream, the Boursin, and let it all bubble a minute. 
Tip it into what I learned — many years ago, marooned for two weeks on St Kilda — to call an ashet: a shallow but not-too-shallow dish you can put in the oven.
Roll out your pastry to fit; pop it on top of your chicken pie mix and make a few tasteful slashes in it. 
Into the oven it goes; 25 minutes should do the trick. Yum. Easy as pie!