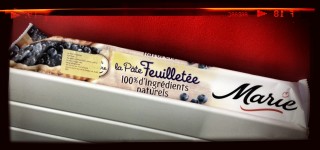 why, you little tart!
C'est si facile, une petite tarte! Especially if you've got a little help from Marie, over here on the left, and her ready-rolled puff pastry. I dare you: tell 'em you made it yourself. No one will know.
I determined to be tart-tastic the other weekend in Paris — Abbi's son Lionel knocked one up in moments (yeah, yeah, very funny) and I suddenly felt I might be able to do the same. This is the work of twenty minutes — maybe not that much — not counting the baking time, of course, but that's putting-your-feet up time. These are my ingredients, but hey, use what you please. I'm really cool about that. 

4-5 leeks, well washed and sliced thin
100g (ish) bacon, diced small
handful chopped parsley
1 tbsp olive oil
1 tbsp butter
125g (ish, again) cheese of your choice, grated: I'm for gruyere, which is pretty trad
5 large eggs
80 ml double cream
salt and pepper

You'll need a loose-bottomed tart tin that fits the pastry: 30cm is good. Preheat oven to 200C.

Heat oil and butter in a saute pan and cook the leeks until they are lovely and soft. Ten minutes, maybe more. Put a lid on for a bit; don't let them brown. When they're loose and relaxed-looking, add the bacon and continue cooking until bacon's done. Add parsley and a little salt, to your taste, and pepper. 

In a bowl, whisk together eggs and cream.

Unroll your pastry and line your tin. Scatter cheese over the base; then add your leek-bacon filling, spreading it out nicely. Now pour over the eggs and cream and pop into the oven. It should take no more than 20 minutes to bake — you don't want it overdone. It will puff up beautifully. Magnifique! Make a petite salade verte and your dinner is complete. I was going to take a picture of the finished article, but we devoured it trop vite!