Fig rolls!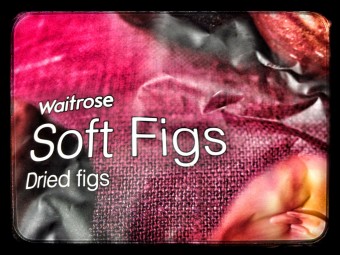 Been working in the British Library lately. Golly, what a wonderful place. Rare Books & Music, that's where you'll find me, with my pencil sharpened and my head down. If there's a downside to working there, it can be expressed in two simple words: Peyton & Byrne. Don't get me wrong — I love P&B and all their delicious snacks! I especially love their fig rolls, which are the perfect mid-morning pick me up. These are not the fig rolls you'll find in a supermarket aisle, but plump, round figgy cylinders, rich with fruit and cozily wrapped in buttery pastry. But: they are £2 a piece. So, I thought I'd have a go at making my own — and I have to say I'm pretty pleased with the results. They're not as glossy as Peyton & Byrne's, and the pastry is a little less sweet, but I decided I was looking for something both satisfying and a little serious to keep me going for a few more hours at my desk. This recipe makes about a dozen — a couple of weeks' worth, if you're not greedy! — and they keep well in a biscuit tin.
200 g dried soft figs — or you can go wild and mix in some dates and apricots too
2 tbsps black sesame seeds (you may have noticed: I love black sesame seeds)
75g wholemeal, rye or spelt flour
75g plain flour
10g linseed or flaxseed
75g cold unsalted butter
50 g caster sugar
pinch of salt
1/2 tsp cinnamon and a dusting of nutmeg
A tablespoon or two of water
Preheat oven to 180C. Grease a baking sheet with butter.
With an oiled knife, chop the dried fruit up finely (making sure to discard fig stems) and then mix with the sesame seeds — rub it all together with your fingers to get the sesame seeds well mixed in.
Make the pastry. Put the flours, the linseed, the butter, sugar and spices in the bowl of a food processor and pulse until it's the texture of coarse sand. Add a tablespoon of water and pulse again; you may not need the second tablespoon, you don't want your dough to be wet. Mold into a ball, wrap in cling film and let it chill in the fridge for 20 minutes or so.
When you're ready to make your rolls, dust your work surface with flour and roll the pastry out thinly. Then, using a blunt knife cut the dough into a neat rectangle, about 40 cm x 10 cm — you'll do the same again with the scraps you cut off. Using your hands to mold the figs, lay a thick strip of figginess longways along your rectangle, role up and pinch closed. Turn it over so the seam is on the bottom, and using your blunt knife again cut your fig-filled pastry snake into rolls — mine are about 6cm long, I reckon. Set them on the greased baking tray; make more rolls with the pastry scraps cut from the first rectangle.
Bake in the oven for 18-20 minutes until a little brown. You could make an egg glaze, if you wanted them shiny; you could sprinkle some demerara sugar on them, too. I reckon I'll try that next. Cool them on a baking sheet, and pack for the library!