Henry Marsh: a neurosurgeon at work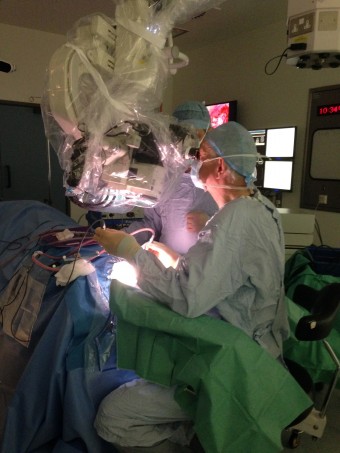 Henry Marsh is one of the country's top neurosurgeons and a pioneer of neurosurgical advances in Ukraine. Erica Wagner witnesses life on a knife-edge.
***
It is just after lunchtime on a wet Monday in February when Henry Marsh is finally able to return to the operating theatre in the Atkinson Morley Wing of St George's Hospital in Tooting, south London, and begin the work that will save a young woman's life.
Jenny is not long out of her teens; the previous week, she had collapsed – from a haemorrhage, the result of an abnormality in the veins and arteries of her brain. She had been close to death: late at night, Henry had operated to remove a blood clot and save her life. But a later scan showed that the abnormality remained. If the problem was not corrected, she could suffer another bleed at any time. So this will be the second time he has been inside her skull.
While Jenny is prepared, Henry paces the hospital's long corridors. There is time for us to sit and have a sandwich. He is restless: he wants to get on. He didn't get this right the first time. He needs to get it right now.
I first encountered Henry Marsh late one night on my sofa. I was too tired to go to bed, and so kept the television on as one programme ended and another started. This was The English Surgeon, a 2007 documentary by Geoffrey Smith about the work that Henry has been doing for over 20 years now at the Lipska Street Hospital in Kyiv, Ukraine. Following a meeting with Igor Kurilets, a Ukrainian neurosurgeon struggling against the post-Soviet culture of poor resources and entrenched, old-fashioned thinking about medical care, Henry began volunteering his time in Kyiv. He brought not only his skills but equipment that had been discarded – generally for no good reason – by the NHS, packed up in wooden crates he made himself.
It is a remarkable, moving film and I was struck by the humane, caustic eloquence of its subject, which seemed unusual for a man in his profession. At the time I was running the books pages of the Times; I thought that he would make a fine reviewer. I emailed him, care of the hospital, not really expecting an answer, but he replied by return. Sure enough, he proved an excellent addition to my stable – and this month he's published a fascinating memoir, Do No Harm: Stories of Life, Death and Brain Surgery, which is why I'm here with him now, waiting to stand beside him as he operates on Jenny.
… read the rest in The New Statesman and hear me talk about Henry in this podcast