Bleeding Edge by Thomas Pynchon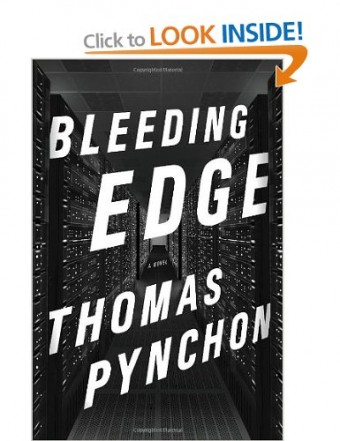 MAXINE TARNOW is riding the subway when this novel finally hits its stride. It is the year 2001 in New York City, not long after 9/11; Maxine, a freelance fraud investigator, begins to wonder how she is linked to what might or might not be a global terror plot flourishing online in the "Deep Web", a nexus of servers and avatars which is still very much a hidden world. At 72nd and Broadway, her express train passes a local train: "the windows of the other train move slowly past, the lighted panels appear one by one, like a series of fortune-telling cards being dealt and slid in front of her." A woman gestures to her from the passing train, they meet, and the stranger hands her an envelope: it looks like things could get interesting.
Too bad, then, that this encounter occurs within 50 pages of the end of Thomas Pynchon's interminable "Bleeding Edge". Mr Pynchon's novels are awaited, among the cognoscenti, with breathless anticipation: now that Salinger is gone, he is the high priest of cult authors, though by all accounts he lives a fairly ordinary life with his wife and son on New York's Upper West Side, where much of this novel is set. Once, in the days of "The Crying of Lot 49" and "Gravity's Rainbow"—novels that reworked the post-war world—such fascination was justified. Now it is hard to get away from the sense that Mr Pynchon has simply lost his touch.
The book begins in the spring of 2001: the Twin Towers are still standing. Maxine, the book's protagonist, is drawn into an investigation of a computer security firm and its boss, the elusive Gabriel Ice. In the lull that has followed the collapse of the tech bubble of the early 1990s, Ice and his cronies stake out the wild west of the internet, where Russian mobsters rub virtual shoulders with CIA operatives and their interlocking trajectories intersect with the autumn's atrocity.
Conspiracy theories, lumbering and secretive networks, men and women with peculiar names (Lester Traipse, Félix Boïngueaux): this is Mr Pynchon's territory. But it's old ground, and adds nothing to the shock and delight of his earlier work. Michiko Kakutani, a book critic for the New York Times, called his last novel, "Inherent Vice" (2009), "Pynchon Lite"; the same could be said of "Bleeding Edge". This is neither a thriller nor a deconstruction of a thriller. Worse, Mr Pynchon's language simply isn't up to the task. Every character sounds the same, yet Mr Pynchon's own voice isn't compelling enough to compensate; the reader is left pining for the sharp, vivid dialogue of the late Elmore Leonard. Descriptions of and reflections on the events of September 11th are simply banal. "Bad turns to worse. All day long"; "A bitter chemical smell of death and burning"; "traumatised souls".
In the age of PRISM and Edward Snowden, there is a great novel to be written about what is really going on in the deep web. Decades ago, Mr Pynchon might have been the man to write it. But there is nothing new here. By the time the reader reaches that subway ride, it is too late: "Bleeding Edge" has bled out.