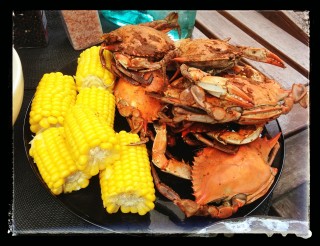 Nope, not feeling crabby at all
So in August, why not trade Shoreditch for Park Slope, Brooklyn? Especially if you have a pal who can cook up a storm and offers you Sunday brunch. The R trains aren't running normally at the weekends — thanks, Hurricane Sandy — but that was okay by us, because instead of running under the river, like they usually do, they head on over the Manhattan Bridge, so as you trundle over there are magnificent views of my dear Brooklyn Bridge, and Lady Liberty out there in her harbour. 
Park Slope is a party, in case you hadn't heard; not everyone approves. "Park Slope isn't even part of Brooklyn anymore," ran a comment on Gothamist. "It's seriously a lower rung of hell, filled with hateful English teachers." (NB: does this mean all English teachers are hateful, or just the ones who head out to Park Slope? Answers on a postcard, please.) Well, cities change, and in any case I don't have a dog in this particular fight.
In any case, I wasn't there for chi-chi amenities (Swedish espresso!) but for the most delicious afternoon with an old dear friend — who also happens to be an expert at cooking Maryland crabs. So for once, I'm not going to tell you how I made something: just let your mouth water when you see what we got to eat. Bet you wish you could get your claws on these, eh?